We have shared so many articles on Artificial Intelligence in the past few months.
Artificial Intelligence has seen so much growth in recent years. People are finding ways to use this technology to help human beings in one or the other task. Being a field of research there are enormous opportunities and possibilities.
While we shared the article on the future of Artificial Intelligence in Digital Marketing, people really loved it. They started looking at things in another way that they were not sure of earlier. And after that hype, people do want to know the scope of Artificial Intelligence in India and also the current status.
We know that it's already a topic of interest in developed countries like the United States. But people in India are still not sure what will it be beneficial to get into the field of Artificial Intelligence. And thus they want to know the future scope of Artificial Intelligence.
Here in this article, we will be looking at all the aspects of AI from scratch. This will give you a clear approach and will help you in making a good decision.
What is Artificial Intelligence?
Artificial Intelligence is the intelligence shown by machines through which they try to mimic human intelligence. With the help of AI, machines could be trained in certain circumstances to take the decision on their own. With that, they can work on their own without any human intervention.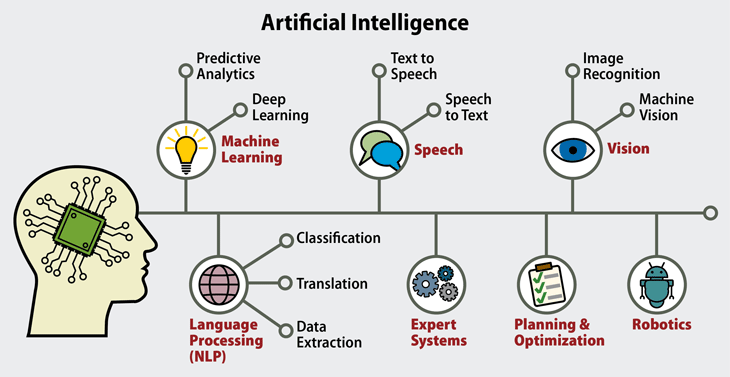 Artificial Intelligence is a very vast field with uncertainties, opportunities and so much that is still unclear. Every day new researches are being done and new technologies are emerging that are capable to replace human beings in so many tasks.
Many people also debate that Artificial Intelligence will harm the human race in the longer run. Having the capability to think on their own may get them against humans and can eventually destroy their existence. We would be ignoring this topic for the time being as even if it happens it is hundreds of years away in the future.
Applications of Artificial Intelligence
Artificial Intelligence is well received by tech companies. They are finding new ways of using them in their growth and scaling their business. The main use of AI is to replace human beings in tasks and perform them with much more accuracy and efficiency.
This thing makes them useful in almost every task that needs repetition, accuracy, and an active approach. We are already using so many devices that use automation to deliver the services. If you are smart air conditioners, they sense so many factors like humidity, weather, etc to decide the perfect temperature required.
Artificial Intelligence is being tested and researched to be used in so many fields including Banking, Medical, Healthcare, Education, etc. Below are some of the major fields that take the help of AI services in India. This will also guide the scope of AI in India or other countries:
Travel and Navigation
Banking Sector
Medical Assistance
AI-Powered Chatbots
Tour and Travel
Hospitality
Smart Devices
Security and Fraud Detection
Social Networking Platforms
With each day new uses and applications of AI are emerging. This also makes it an important field for students and learners to dive into. There is an exponential growth in the demand for skilled AI developers. But there is a small catch that you can't just directly be an AI developer. There are various skills that you will need to become an Artificial Intelligence developer or even to enter into the field.
What is the Scope of Artificial Intelligence?
As you can see clearly that AI is making an impact in each and every field thus it requires professionals to handle the demand. In already developed countries a large amount of funds is being spent on the research. This research is carried out to find ways to use AI in the best way possible.
Like in the medical field countries are researching so many AI capabilities to diagnose some deadly diseases in human beings effectively. AI-powered Voice Generators are helping content makers to create realistic voiceovers in minutes.  But in India, the scope is still limited and is not seen in all the fields mentioned above. They are surely seeing hype in the market about the technology and capability of AI and the future scope of AI in India is bright.
Organizations have already accepted the fact and started to spend some funds on the use and research. A lot of AI-based startups are emerging which is making a demand for professionals in the Indian market. The main impact would be seen only after some steps taken by the Government itself to spread awareness.
The recently launched Swayam portal is focusing on providing courses on Artificial Intelligence to help students in learning it right from their college days. The banking sector is also focusing on AI technologies to prevent fraud and scams that users are facing. So there are positive results seen in India regarding Artificial Intelligence.
Skills Needed for Artificial Intelligence Jobs
Learning Artificial Intelligence is not a one-day job. When the field itself is growing and seeing a lot of changes so you need to be active enough with dynamic thinking to grasp and adapt to the changes. Below are some skills that are generally required for you to enter into the field of Artificial intelligence.
Solid foundation in Mathematics for working on different models
Knowledge of Statistics, Probability, Calculus is Required
Programming expertise in one of the programming languages like Python, Java, C++, R
Working Knowledge of Data Science algorithms and libraries
Machine Learning models, tools, and algorithms
Knowledge of tools including Tableau, Hadoop, Spark, etc
Strong knowledge of data structures and data modeling
These skills may vary with the field that you are choosing for learning Artificial Intelligence. The base like a programming language, mathematics, stats, and algorithms may remain consistent. For further knowledge, you can read this article from DZone
You can check out our list of free courses for different skills that you may require in your learning process. We list out free courses and certifications to help students:
So here comes an end to this article about the scope that Artificial Intelligence has in India. We hope that it would have solved your doubts about the future of AI in India and the scope of your career. Do share your feedback in the comments below and also share the article with someone who needs it the most.