No matter in which field you are working you might have come across the demand of creating some graphics. Maybe for some projects or your work requirements.
Graphics are an important part of our day to day life. They are all around us taking much part in our surroundings. This also made Graphics Designing an important field in organizations.
It is a well-known fact that human beings process visual content much faster and better. So, if you will be the one creating amazing creatives then human beings will always be in love with your work. Companies have also started taking visual content much seriously and thus are hiring Graphics Designers, UI/UX designers every now and then.
We recently had a poll in Present Slide's Facebook Group about choosing the next skill for resources. Most of them chose Graphics Designing and thus we crawled the Internet for past 3 days for finding the best free online stuff.
Here in this article you will get everything that you can use to learn Graphics designing right from scratch. The list contains Graphics Designing Courses, Guides, YouTube Channels, Blogs and more. And this article is going to be a bit longer so you can bookmark it if you are in a hurry.
Shall we start the list now? We know the answer to be Yes.
Graphics Designing Guides
Before entering into any field it is always good to know the basics well. This will create a base that will help you in getting more from your efforts. The guides mentioned below are created by design experts with some important points that you need to know before enrolling in any course.
This ultimate guide written by Sean Hodge is what you need to start knowing about Graphics Designing. You will know how to use online resources to learn this skill perfectly. According to the guide, you don't actually need to go to any design school for being the next awesome Designer.
There are multiple steps in the guide with each having list of further resources. Going through the guide and using that mentioned stuff is enough for your designing journey. But you should know that designing is not a one time skill and it goes on updating itself with new techniques and design trends.
There are different needs of Graphics for different work profiles. Some require formal types of designs and some may get with casual ones. Thus it is important to know all the major types of Graphic Design that you may be using while working on projects.
This is a 10 minutes comprehensive guide with practical examples of each type. By segmenting designs in different categories you can solve many problems that may occur afterward. You can also go with a single type an be the niche-specific designer to get targeted projects and results.
Read the guide and know which all types you are already familiar with.
This is not a single guide but is a set of lessons completely defining each step in the Graphics Designing process. When we first saw the lessons we thought it would be a paid one. But we were surprised to see that they have provided 50 lessons for free.
The journey starts from a basic Hello World lesson which they have named Lesson 0. After that there are 50 more lessons each having guides and resources to making every point clear to the audience.
Some of the starting chapters are as follows:
What is Design? Why It Is Important?
Dive Into Typography
The Amazing New Mobile Web
Know Your Tools
Typography in Product Design and More
There is so much to learn in these guides written by expert designers. Take a notebook and go through the lessons one by one. Combining so many factors of design you will surely be able to get some creative and analytical ideas.
Canva is one of the most popular graphic design tools available in the market. It helps people in designing creatives with a drag & drop environment. In this guide, Canva has shared some important Design Rules that everyone should follow.
These rules are related to general look and feel of graphics and affect so much on the design outcomes. One single mistake can ruin all your efforts so it's better to know them beforehand.
After going through the above guides you might have got enough overview of the working. Now if you need some serious tutorials then you must look at the design tutorials from 99 Designs. There are 108 articles at present which are added up with new ones frequently.
You will get tutorials for some common design tools including Photoshop, Illustrator, PowerPoint, etc. These tutorials can help you much in learning some tools and design concepts.
Some of their recent posts are:
What's The Difference Between Raster & Vector Images?
Dynamic Lettering: How to Add Movement in Your Letters?
How to work on Logo Design in illustrator
How to Make Your Own Professional-Looking Explainer Video
By looking at these titles you might have already guessed the amazing quality material that you will be getting. So, bookmark them and read every bit out of these tutorials.
Free Graphic Design Courses
The above-mentioned guides were enough to get you started. Now if you want to go further then you will have to enroll in some courses. We have curated some Free Graphic Design certification courses. Keep in mind the fact that there is a lot of difference in paid & free courses.
We have tried my level best to select only the best ones available which can help you in learning Graphic Designing.
This course is provided on Coursera by California Institute of Arts. Although the complete course modules requires you to get a premium subscription you can audit the course for free. Assignments, Quizzes & Certification is not available while auditing the course.
You will have to upgrade to get those things but still, you can learn everything without paying anything. You can select the option to audit course while signing up as shown below in the picture: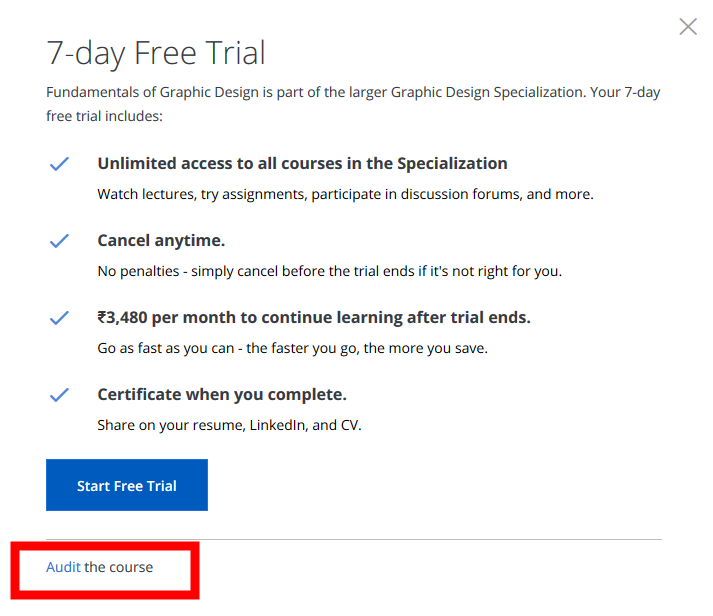 Alison is a well known free online learning platform. Students can learn any skill online from Alison for free. This Graphic Design course is prepared especially looking at the increasing demand for professional designers. The course will help you in learning some important design elements such as lines. shapes, forms, tones, etc.
With that you will also be learning basic design principles that you can follow to get better visual outcomes. Some design systems mentioned are paraline, orthogonal, isometric, oblique, planometric, and perspective. So, this is a complete package for all those who want to learn important design aspects.
The course modules are as follows:
Design Elements & Principles
Drawing Systems
Production System in Design Industry
The Production Process
Final Assessment
You can learn all the elements but to get the certification you will have to pay the charges.
Canva as we already mentioned is a Graphic Design tool. They have a section on their website where they teach learners about design and its principles. This course from Canva is focused on beginners to make understand how things work.
The course has been divided into 12 segments with each having video lectures. Experts have shared their views on topics such as Moodboards, Fonts, Colors, Shades, and much more. There are different experts who are being interviewed on different topics so as to get the views on different dimensions.
There is so much to grasp from these small byte-sized videos. Start learning right away!
Just like the one we mentioned above, it is from the Canva Design School. This course is focused on the concept of branding and how you can brand your business. The host takes us through the segments in which she interviews different experts who share their experience on the topics.
Like some of the questions mentioned in the first video itself:
What We Mean When We Talk About Branding
Why Branding Matters to You & Your Business
How to Deliver on Your Brand Promise
And there are other important topics including Name of brand, Purpose, Logo, Font, Brand kit & more. After completing the videos you will have enough knowledge about branding and how it is connected with designs.
Eduonix is an online learning platform that provides both paid and free courses. Photoshop is one of the most important and popular designing tools in the market. You will need to learn the basic and advanced workings if you want to enter into the field. As a graphic designer you will have to work on it many a times.
The course contains 35 lectures with 8 hours of content and you can take this course for free. You will also get a design certification from Eduonix on completion.
Sections from this course are:
Introduction
Getting Started
Tools
Workflow
Photo Correction
Effects & Techniques
Just like Photoshop, Adobe Illustrator is also an interesting and popular designing tool. Illustrator is more powerful in Graphics Designing as it works using vectors instead of pixels. So the graphics won't lose any quality even after resizing them to any dimensions.
Enroll in the course and start designing graphics for web, videos, and films. The course starts from basic tips and tricks and then will take you into topics including Pen Tool, Transforming, Gradient, Types & Panels, Perspective and Automation.
Course Sections are as follows:
Introduction to Adobe Illustrator
Basic Illustrator Features
Working With Colors & Patterns
Type & Panel
Effects & Appearances
Making a Design in AI
AI – Advanced Features
Summary of What You Have Learned
YouTube Channels & Playlists
When it comes to free online learning then YouTube has got some amazing resources. There are channels which are providing quality lectures for beginners as well as intermediates. So, we have listed some amazing YouTube channels and Playlists for Graphic Design learning.
This Playlist is from Gareth David Studio which is a YouTube channel especially for Designing courses. The creator Gareth David is having more than 12 years of experience in design industry. On the channel, he shares tutorials and series based on Design Softwares including Adobe Photoshop, Illustrator, After Effects, and more.
The playlist has got 20 tutorials for beginners to learn Adobe Illustrator from scratch. Each and every element is explained in the form of video tutorials. And if you want to learn other tools as well then you can have a look at the channel content.
This we selected especially for people who are interested in learning in Hindi language. This Hindi playlist is from GFXMentor which is a YouTube channel focused on teaching graphics designing. The creator of this channel Imran Ali Dina has around 17 years of experience in Graphics Designing and on his channel GFXMentor, he shares his knowledge with people who can't afford design institutions.
The playlist is having 39 videos and you will learn the tool right from scratch. And just as we mentioned above if you want to have access to other tools and courses then you can check the channels content.
Not everything needs to be lengthy to explain you what you want. This simple playlist from GCFLearnfree.org has got 6 short sized videos having so much knowledge to know about. The videos are all equipped with illustrations and animation that you would love the content.
Also they shared some amazing tips through the videos. We loved the content and thus though to share it with you all.
The content of the Playlist are:
Fundamental
Color
Typography
Layout & Composition
Images
Branding & Identity
Graphic Design Blogs
After all that learning you are now ready to create graphics of your own. But Graphic Design is prone to changes and new trend updates. For keeping yourself updated with new happenings then you can follow some amazing Graphic Design blogs that we have mentioned below. They share useful stuff frequently and will help you in knowing what is working in the market for now.
It's all about design techniques, tips, strategies, and process. Do follow the blog to get amazing insights on design industry.
You may face situations when you are not getting solutions to your design problems. Creative Pro has this section for your rescue. You can also join their newsletter to get the trend news at first.
A lot and lot of information about design, branding, marketing, trends. We would surely suggest anyone to go and read their blogs.
Great stuff on UI/UX including articles about illustrations, design concepts, product design, interviews of industry experts, and more. Join the newsletter if you want the latest updates in your mailbox.
Not only tutorials but get suggestions on digital products such as storage devices, camera equipments, and enhancement tools.
UX is an amazing field with lots of concepts and processes to deal with. This blog will always help you in getting your queries solved and also to find some valuable guidance.
So, here comes an end to another great list of free Graphic design certification, courses, guides and stuff. Hope you will learn some amazing skills with the help of these guides and tutorials. More resources will be added and the outdated ones will be removed.
Share it with someone who needs it the most. ♥