I can guess some reasons for you to read this Udemy Review.
Either one of your friends suggested you take an Udemy course or you came across this platform while searching for some online education.
Udemy is no doubt one of the most popular online learning platforms. They are having a wide variety of courses focused on so many fields and expertise. The courses range from beginner level to some advanced stuff.
I started learning on Udemy in 2016 and since then I am using it for learning new skills. If you are someone who is confused about choosing this as your learning platform then this post is surely for you. I will be reviewing Udemy based on different factors so that you can decide if you want to go with it or not.
so, let's get started with our review on Udemy.
1. Availability of Choices
The first thing that students want in an online learning platform is the availability of choices. No single course can suit all and the same goes for an individual instructor. And thus students need choices to go with the best-suited one.
According to the website stats, Udemy has more than 150k courses, and 57k Instructors teaching things in more than 65 languages. These numbers clear the doubt of having so many choices for you to select the best course in your desired language. Now, I wanted to make sure that if I want to learn something I get enough choices or not. Thus I went on Udemy to search for some Python courses.
Here are the results that I got: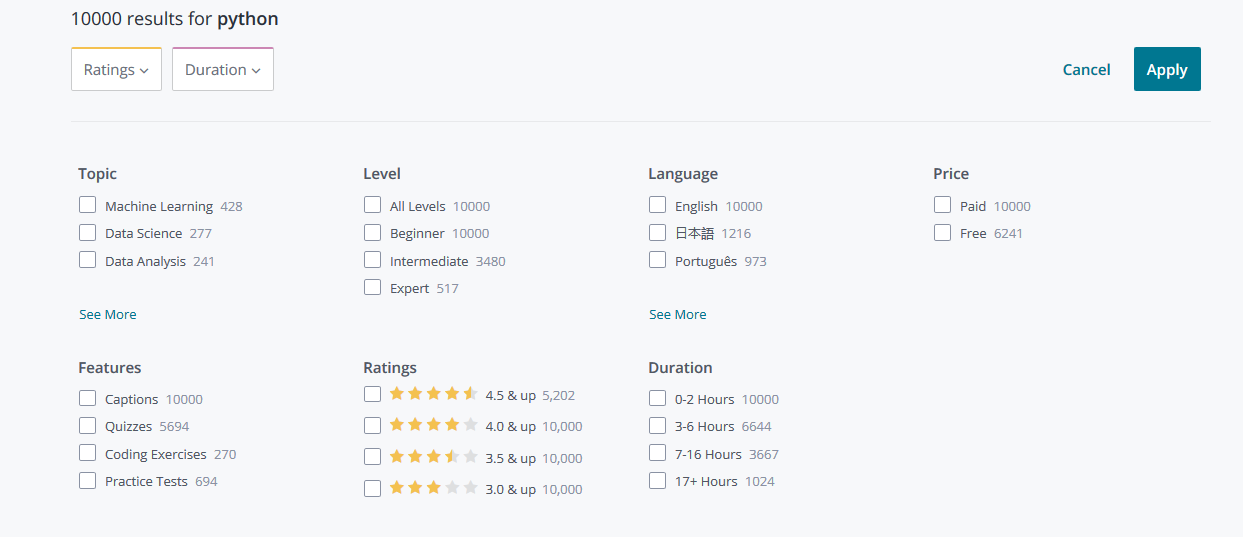 So you can see that just by searching Python I got more than 10,000 results. I can apply filters as per my choice to get the best for my choice and selection. If you want to know about the categories that Udemy provides a course on:
Development
Business
Finance & Accounting
IT & Software
Office Productivity
Personal Development
Design
Marketing
Photography and Many More
There is no shortage of courses for you to learn new skills on Udemy. But, availability is not the only thing that matters and thus we have more points below to review Udemy better.
2. User Interface
User Interface matters a lot when you want to learn online. Even a minute distraction or inability of the platform can cause a loss of interest. The homepage allows you to search for your desired skills either by writing in or by choosing through categories.
Then you will see a list of courses according to their ratings, reviews, and relevance to your search terms. You can click on any course item to get to its individual page describing the course overview. You will have buttons to Buy the course or Add it to the Cart. After that, it needs you to create an account and pay for the course.
Every purchased course goes into your My Courses section where you can start learning. Every purchased course has different sections including Overview, Q&A, Bookmarks, and Announcement. Course videos can be watched one by one and each module will be marked completed.
Any beginner can use the platform without having any issues with the elements.
3. Price Range
Price is something that catches the eyes of most students. Online learning is good because students can get courses and certifications at a lower price if compared with offline courses. Udemy has a flexible price structure and courses may range from 10$ to 300$.
But the fact here is that most of the time Udemy courses are available on sale and thus you can get them for as low as 10$.
In other countries like India, they have lowered the price a bit more and the courses are available at around 400 Rupees. In deal time they might lower the price even to 360 Rupees. And they are not hurting the instructors much because they get a huge number of sales and I have seen some courses with more than 300k students too.
Another great thing is that Udemy also hosts free courses for every major skill. And even if it is free you will get a certificate of completion without paying anything. So, Udemy is quite affordable for students and you can learn a lot from the courses offered.
4. Course Quality
Above all content quality matters the most because at the end of the day, you are enrolling in courses for learning something new. I myself have taken so many courses from Udemy and below are a few of the mentioned:
Salesforce CRM
Complete Front End Development
Complete Excel Mastery
Become a Growth Marketer
Unity Game Development
There are more courses that I completed and yes I found them really good. The main thing that students need to understand for online learning is that they have to be more focused. Offline training has its own schedule which makes students learn regularly and be consistent. The same thing should be done for online courses as well.
You will have to give regular hours each day, make notes, and practice things side by side. And for finding good courses you can check about the Instructor, course review, and content.
5. Refund Policy
You may fear the thing that if you paid for some course and it was not worth it. It's not always about the quality but maybe the instructor didn't suit you or you are at the beginner level stage to understand that. These things may want you to ask for a refund.
Udemy has a 30 days refund policy and if the student is unhappy with the course content then he/she may ask for it. But there are surely some conditions on the refund policy to save instructors from fraud. You can check the refund policy here: Udemy Refund Policy
Students can be assured that their payment is safe and will not get wasted if they didn't like the course content. But if you have downloaded all the course content before raising a refund request then you will not be able to get it.
6. Coupons and Deals
Online Learning is already cheaper than offline one as they focus on getting more number of students. Udemy has an amazing way of providing courses at attractive prices. Also, the instructors provide coupons that may either reduce the price or give courses for free.
Most of the time Udemy hosts sales in which students can get courses at a much lower price. This can surely help students in learning new skills without worrying much about money part. You can search online for Udemy coupons to get some amazing discounts on courses and certifications.
Conclusion
So here comes an end to this Udemy review and I tried to cover all the factors that were confusing students to choose it. My final words about it will be that if you are just a beginner then you should definitely try the platform for your learning process. And if you are still unsure about the quality of content then you can take some free courses to get an overview.
The main thing to understand here is that it has so many instructors and courses and not all can be good or bad. So this was an overall review of Udemy as an online learning platform. I always suggest beginners try out the courses to get on the track to learning new skills.