This is the best time to start your career in content marketing than ever.
At least, this is what the data suggest.
The popularity growth of the search term 'content marketing' clearly indicates the demand for content marketing worldwide.
Here's the popularity chart for 'content marketing' over the last decade.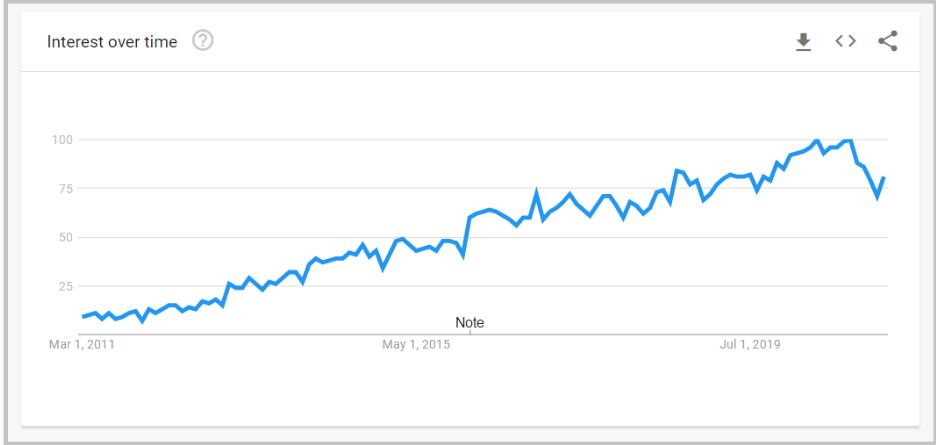 Source: Google trends
So, if you want to invest your time and effort in learning content marketing from the right resources, this is the right time to do it.
But before you start jumping into the content marketing resources, you need to have a clear idea of the demanding skills, especially in 2021.
In that way, you'll have a clear idea of creating your learning roadmap.
Top Content Marketing Skills
After analyzing 5514 jobs all over the world, the content marketing jobs report (2020) made a list of the high-demand skills.
Here's the list: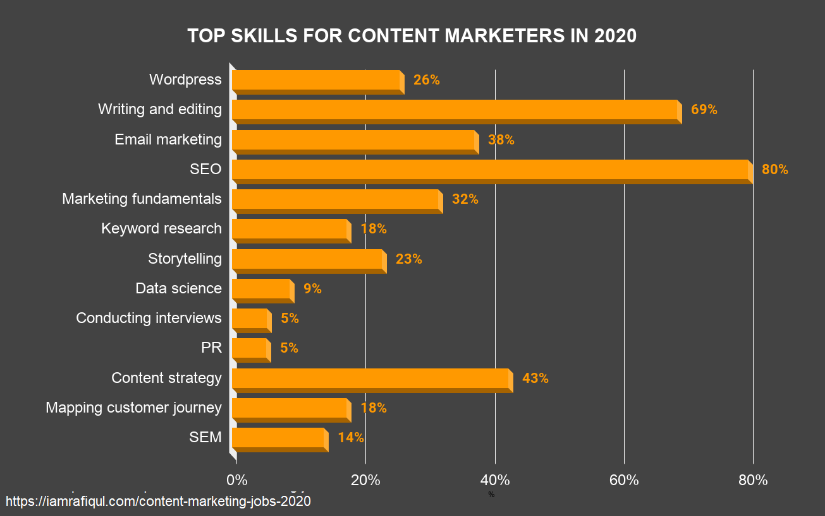 According to the survey, the top 5 in-demand content marketing skills/ requirements are:
Search engine optimization
Writing and editing
Content strategy or content planning
Email marketing
Understanding of Marketing fundamentals
This list of in-demand content marketing skills will give you an overview of where to spend most of your time to level up your skills.
Let's jump into the list of the content marketing resources:
1. Content Marketing Certification By HubSpot
The content marketing course offered by HubSpot is by far the best free resource available for all beginners. If you have little to no experience creating content plans, building SEO strategies, and writing SEO-optimized content, this course is all you need to have a solid foundation.
Topics covered in this course:
Storytelling lessons for business
Content creation framework
Building a long-term content plan
Finding content ideas
SEO strategy
Video marketing strategy
Content promotion, and
Auditing your content inventory
Along with the quality resources, you'll also get a free content marketing certificate only after clearing the 1-hour exam.
2. The Content Marketing Strategy By Coursera
This content marketing course, offered by copyblogger and UC Davis, provides a comprehensive resource to level up your skill.
One of the reasons you should go with this course is that every module is short in length, and you'll get lots of additional learning materials such as eBooks, templates, checklists for free.
More than 200k people have already registered for this course.
Topics covered in this course →
Basics of content marketing (What and Why)
Get introduced to the context 7A framework (Writing content, building strategy, and planning content topics)
Mapping customer journey (Learn how to craft a successful content marketing strategy)
Managing content inventory (Content calendar, editorial plan)
Though the learning module is free for everyone, you need to pay to get a shareable certificate from Coursera.
3. Advanced Guide to Content Marketing Guide
Usually, video content is much more easily consumable than text format. But in this case, the eBook is nothing less than an in-depth video course.
The ebook includes so many illustrations, screenshots that every step of the content planning will be clear to you. From creating the content marketing template to using tools, everything is shared in this guide.
Most of all, this is coming from Neil Patel and Kathlyn Aragon that ensures the learning materials are proven to work and give results.
Topics covered in this eBook →
Building a content editorial calendar from scratch
Competitor analysis
Content gap analysis
Writing tips, and
Lots of examples
4. Marketing Fundamentals
Having a clear understanding of marketing fundamentals is as equally (if not more) important as learning the basics of content marketing.
This course, offered by edX, gives you a solid foundation in marketing. Also, learn how to acquire customers, study your audience to create a better marketing plan.
Topics covered in this course →
The marketing mix
Segmenting our audience for better messaging
Consumer behavior
How to target and position your brand in the market
The learning materials from this course are absolutely free of cost. But to get a certificate from edX, you need to pay.
5. Copywriting Masterclass
Copywriting is one of the most important skills not only in content marketing but in overall marketing.
This copywriting masterclass will give you access to 4 hours of content with 16 lectures.
Most of all, you'll also get to learn how to turn your writing skills into a full-time profession. This makes this course a must even for a professional copywriter or someone who has started their journey in this field.
Topics covered in this course →
Introduction of copywriting
Characteristics of a master copywriter
How to write well with clarity
Turning passion for writing into a profession
6. YouTube Marketing
Surely, if your brand isn't leveraging the video content, then you're missing out on a large audience.
And, when it comes to video, YouTube is the largest search engine for video content creators.
This course by HubSpot will show you how to build a content strategy for Youtube and build a successful YouTube channel.
Topic covered in the course →
Tips to get more subscribers and increase your video watch time
YouTube SEO- optimization of keywords, Title, etc
Creating a video that connects with the audience
7. Content Marketing eBook With Certification
This beginner-friendly content marketing eBook will set your foundation for content planning, SEO strategy, and content auditing.
Topics covered in this 161 pages eBook →
Introduction to content marketing
Content planning and optimization for SEO
Understanding CMS
Content promotion plan
Influencer marketing
Glossary
Conclusion
The best part is you can avail a free certificate from the eMarketingInstitute once you clear the exam.
8. Content Marketing Unlocked
Neil Patel, an online marketing expert, has created this content marketing course for free, where you get lessons with practical insights and a step-by-step formula to implement.
The entire module is divided into four weeks which makes it easy-to-consume and implement along with the course.
Topics covered in this free course are →
History of content marketing
Content creation framework
Content promotion and link building strategies
Omnichannel marketing
Best of all, you will get to access the course at your pace. Even this is also available on his YouTube channel.
9. Five Hours of Content Marketing
5 hours of content marketing masterclass by industry experts is one of the most practical and insightful presentations you'll ever see.
Organized by SemRush, In this mega webinar, you'll get to see experts such as
Robert Rose
Andy Crestidona
Lily Ray
Julia McCoy, and many more…
Interesting topics covered in this webinar are →
Guide to non-boring B2B content marketing
Thought leadership and SEO
Content strategy in the time of crisis
Content promotion strategy
Case study: How marketing agency uses content to get more search visibility
Watch the on-demand webinar (recorded)
10. Blogging For Business
Blogging is a proven way to get started when it comes to driving traffic and meeting business goals.
Yes, there are many resources available to learn about blogging.
But Ahrefs Academy has taken this course to the next level by adding strategies that helped Ahrefs become an authority in the SEO field.
Image source: Ahrefs Academy
Here's the outline of the blogging course →
Understanding the basics of blogging and content marketing
Analyzing ranking opportunities
Finding and prioritizing content ideas
Optimizing content for better search visibility
Content promotion and link building process
Bonus interviews
Final Words
Content marketing itself is a broad topic to learn. It is always preferred to understand the basics of marketing first.
Because in the end, you're marketing a business, products, or services. Also, make sure you don't restrict yourself to learning. Practicing is also important in content marketing to level up your skills. In the meantime, start your journey with the hand-picked free resources.
---
Author bio: Sk Rafiqul Islam is a content marketer who has worked with small-to-medium-sized businesses to grow their audience and generate more leads. He also runs a content marketing newsletter where he shares actionable content marketing insights every Monday.
Connect With Him on Facebook | LinkedIn | Twitter