Hello learners, we hope that you are learning things pretty well.
The situation is not that favorable for most of us and we need to do some extra efforts in order to get better results.
A lot of offline companies are facing difficulties and are trying to shift to an online world. This has led to an increase in demand for professionals that can help them grow. SEO is one such field that helps companies grow their business with the help of organic traffic.
After the setup of an online website, the first thing they need is traffic on it. Only then they would be able to connect with the users and convert them later to their customers.
Here is a picture showing the average salary of an SEO specialist in India as per the experience. It all depends on your skills and what value you can provide to the company.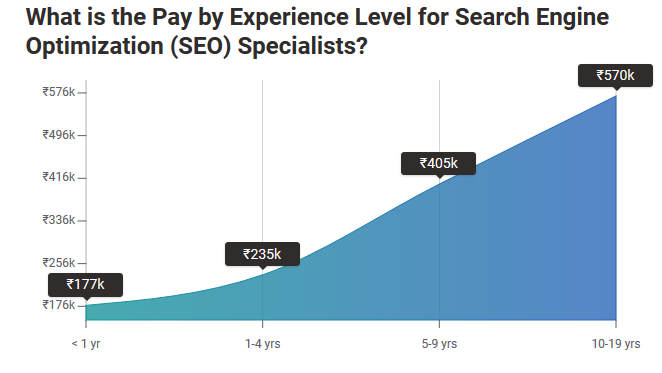 This article is here to help you in finding the best YouTube channels to learn SEO. YouTube is one of the best places to learn a new skill without worrying about the course charges and all.
So many people have learned different skills with the help of YouTube. This is the reason that we have created a separate section for the best YouTube channels on our website.
We selected these YouTube SEO channels by going through each one of them. Also, we asked so many SEO professionals about their suggestions to choose only the best ones.
You would love to read: How to Start a Successful YouTube Channel
Go through them, watch some videos, and settle with the one that suits your need. After that, you can start learning Search Engine Optimization step by step with their video lectures.
So, let us get started with the list of best YouTube channels for SEO:
Brain Dean, also known as Backlinko is an industry leader with years of experience. People look on to him for all the advice that they need about Search Engine Optimization. On his YouTube channel, he shares some amazing tips, tricks, and strategies about SEO and how you can grow your blogs/websites with the same.
Not only for general websites but he also shares SEO tricks fro YouTube channels, eCommerce websites, and more. His YouTube channel is full of white hat SEO tips that can help you scale your online business if followed properly.
Neil Patel is a New York Times best selling author. The Wall Street Journal calls him a top influencer on the web, Forbes says he is one of the top 10 marketers, and Entrepreneur Magazine says he created one of the 100 most brilliant companies.
This is enough for you to move to his channel and start learning what he trains people on. On his YouTube channel, he shares knowledge about Digital Marketing. Most of his videos are around Search Engine Optimization and how you can do it in the best ways possible.
The channel is also good for someone who wants to dive deep into online marketing without having a complete focus on SEO.
Everyone in the SEO domain knows about Ahrefs. It is one of the best tools when it comes to keyword research, competitor analysis, and backlink research. They also have their own blog where you can get to learn a lot about SEO. Even if you are a beginner you would be able to understand things pretty well.
Their YouTube channel is no less when it comes to sharing knowledge. Some people are not good with textual tutorials and thus it is suggested for you to have a look at their YouTube channel for learning SEO. They have segmented the videos in different activities like Keyword Research, Backlinks Analysis, SEO Audit, and more.
So, it would be better to create a list of all the topics and then start watching the Playlists one by one.
Moz is a marketing analytics company delivering tools for SEO, Links, and Brands. Just like Ahrefs, they are also popular in the field of SEO for their tools and SEO metrics. Their Domain Authority rating is a kind of standard in the industry for measuring the quality of any online website.
Their YouTube channel is full of SEO videos for beginners and intermediate learners. Though they are not uploading new videos for some time all of their old videos are worth watching.
If you are someone who has taken a lot of SEO courses and still haven't got some practical knowledge then do give their videos a try.
This YouTube channel is a bit different in its approach from the ones that we looked at earlier. All of them shared tips, tricks, and strategies that people can learn about. But, this guy shares live websites auditing, the process to get SEO clients, Work on SEO projects live, and a lot more.
If you are dying to learn search engine optimization practically then do check this channel out. It is one of the most active channels with around 5-6 videos a week. Each and every video has a different thing to share with a practical roadmap to follow.
It is very important to know the practical steps because even after knowing the tricks you might not be able to apply them easily.
He is working in the online industry for 18 years now and has got experience of a lot of things. He keeps sharing stuff related to online training and consultancy on his website.
His YouTube channel is full of knowledge with a different type of content every time. You can find regular Ask Me Anything videos, SEO Tails on a regular basis, and other informative videos too. Move to the playlist section for finding videos related to the specific topics that you need.
Link building seems to be the focus as many videos are around that topic. Link building is an important part of any SEO campaign and only a few people share the exact steps to create powerful backlinks.
This is also an amazing channel for beginners to get their hands on this skill. Not only the short videos but there a lot of longer videos that were streamed live for the audience. They contain topics right from the basics to advanced stuff.
Not everyone talks about the advanced stuff when it comes to optimizing websites. And for delivering results to your clients or even to your own web projects you need to have knowledge of that. Though it doesn't have a step by step playlist if you are well aware of the basics then you can get answers to a lot of your queries from the trainer.
Their blog is one of the most active blogs related to search engines, online marketing, and blogging. They share all that happens inside the industry whether its a new algorithm update or a new feature, everything is covered. Similarly, on the YouTube channel, you can find all the latest news on SEO, Marketing, and other related fields.
Everything is explained on the basis of how it can help you in growing your online presence. You can also attend some of the most informative broadcasts named Marketing O'clock on the channel covering one or the other relevant topics.
SMA or Shelley Media Arts is an Inbound Agency in Central Florida. Their agency works with different clients and helps them in multiple things like SEO, Website Design, Branding, etc. Thus, their channel is also focused on multiple such things that help small businesses in taking full advantage of the technology.
The tagline is 'Hack My Growth' and that says it all. A lot of people are now moving into the growth hacking aspect of digital marketing. It comprises of the activities that can do more with fewer resources. By learning these growth hacking techniques you can work in a better way and get amazing results with the same number of resources.
So, get on the channel and start learning things that matter.
It is not a mention of the SEO YouTube channel but a video that Simplilearn has published. All the above channels that we shared are not that structured with the learning part for the beginners. Thus, we selected this particular video and it has got a complete syllabus for search engine optimization in a single video.
You can move to the description to get a complete timeline of the video with exact topics. This would help you to skip to a section that you want to start with. The video starts from the basics and then would take you through all the topics one by one.
Here comes an end to this list of YouTube channels for you to learn search engine optimization. We hope that you would get enough knowledge out of these channels and thus getting a good working opportunity.
The field is vast and so does the requirements for the companies. You will need to practice things a lot to get the concepts clear and working skills. If you face any difficulties or have some queries you can always share them in the comments.
Happy Learning!