LinkedIn is one of the fastest-growing networking platforms. It is mainly used by professional people to communicate with others all over the Internet.
Companies may have their Pages where they post job offers, communicate with B2B clients, and so on. On the other hand Job seekers may have their personal profiles where they showcase their skills.
Like any other social platform, organic reach is the major issue. For reaching more people your content must satisfy the LinkedIn algorithm. And as LinkedIn is a new trending platform people are trying it to reach more people.
Only a few percent of LinkedIn users are currently posting content on their profiles. But still, it takes a lot of effort to reach the right audience. Like any other Social Media Algorithm LinkedIn's Algorithm also boosts posts which are getting a good initial response from users.
That is the place where Engagement Pods for LinkedIn comes under the spotlight. We will be looking at all the aspects of LinkedIn Engagement pods in this article.
What are Engagement Pods for LinkedIn?
You might have heard about Engagement groups earlier. They are mainly termed for Instagram and Facebook in the past.
LinkedIn Engagement Pods are groups of people who mutually agree to engage with the content of all the other members.
Are you thinking about the reasons to do so?
The reason is simple and the same as we already discussed. The LinkedIn algorithm checks newly updated posts that if they are eligible to be shown to more members.
And as people in that Engagement pod interact with it as soon as it is posted LinkedIn algorithm finds it a better post. This way the post gets boosted up and is shown to a larger audience.
You can see the organic reach that this post got while testing one of the LinkedIn Pods. It got more than 10,000 views and 100+ engagements. Pictures get more engagement and thus reach more number of people. This was just to do a test on how social media algorithms work.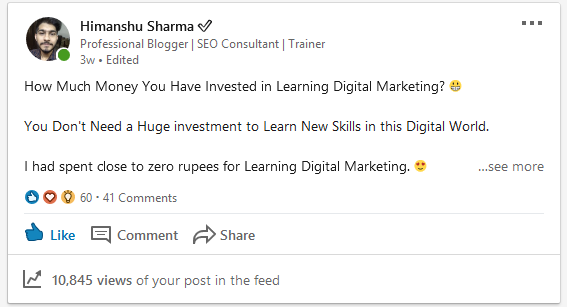 Disclaimer: This was done just to perform a test and not to manipulate any social media platform's algorithm.
There is no proper definition or guidelines on these pods as they are user-generated. You can create one on any platform and add people who are actively looking to get more Reach.
People in these groups share their posts as soon as they upload it and other members like and comment on them accordingly.
How Beneficial are LinkedIn Engagement Pods?
Organic Reach on Social Media is almost dead and you can't reach more people without paying for ads. Social Media ads including LinkedIn are costly enough that small businesses or individuals still can't afford them on a large level.
Content Marketing seems to be one of the best ways to reach end clients. And if your content reaches them without spending any money then it's better than everything else.
Engagement pods can help you in getting higher reach with less to no efforts. Keep creating good content and post regularly on LinkedIn and then share these posts in one of the pods. This will make your post go viral which can bring you both clients, leads, followers, and much more.
One more benefit that these pods have is they help you to go trending. LinkedIn allows the use of hashtags on posts and the post getting high organic reach gets into the trending section. This helps you to stay at the top on the Hashtags page. You will get a notification just like shown below for a profile:

How to Find LinkedIn Engagement Pods?
They are generally private groups so you will not find one. One of the advice that everyone will give you is to be active on LinkedIn and you will be added in.
Still, below are the four ways you can join these pods:
1. Search on The Internet: It is not necessary that you will find them only on LinkedIn. People can join together at any platform to create a group for Engaging with LinkedIn posts. You can easily find Facebook groups who allow members to join in any Engagement pod.
2. Create One Yourself: You can create a group of 10-15 friends who agree to engage with posts actively. The main thing with that algorithm is timing. If the post gets enough response in the first 15-20 minutes then only it is boosted.
So make sure you add only the active members in the group. Otherwise, you will get no benefit from having a LinkedIn pod.
3. Promote Your Group: If you have your own website then you can promote your group. This will help you to get more active members interested in engaging. Make sure to remove the non-active members from time to time.
4. Paid LinkedIn Pods: The more popular members the group has the more reach you will get. So, people sometimes create a group with highly influential people and charge for entry. If you are already active on LinkedIn then they will soon contact you.
These paid groups could also be found on Telegram or Facebook. Your account should also follow some minimum requirements.
So, you can follow these things to get added to one of the Engagement Pods for LinkedIn. Now, we will be looking at some important points about joining or creating a LinkedIn pod.
Important Points About LinkedIn Engagement Pods
1. Algorithm Updates Regularly: LinkedIn algorithm gets updated regularly and thus these groups may not work after some time. You should never rely on them totally and should only focus on creating quality content.
2. Limited Members: Keep the number of members in group limited. Else the group will get filled with posts only and the majority of people would not even engage with the content.
Limit the number to 15-20 members and keep an eye on inactive members. You could also remove members who are not creating content on a regular basis.
3. Quantity Versus Quality: The number of likes and comments does not matter much but their quality does. Make sure you only add quality members with enough number of posts and followers.
4. Content is the King: Even if you are trying LinkedIn Engagement Pods you will lose with bad content quality. Reach never means that people would love your content and share it. For getting the best results your content should be top-notch.
5. Short Term Results: The results from these pods are often short term. Due to the fact that platforms change their way of choosing quality content. You will get enough chances of getting more reach and audience so better make the use of it faster.
Conclusion
This article was just to explain this topic and not to encourage anyone to join or create an Engagement group. These things are not genuine and your audience will most probably guess that you are using some tricks to get high reach.
Facebook and Instagram have already started working on the removal of such groups. They have even suspended multiple groups and members for following such practices. LinkedIn may also work on various procedures to fight Engagement pods.
As we have already mentioned that these things are generally for the short term. The only thing that gets a high reach for the long term is the value you are providing to the end-user.
Even if you will get hundreds of reactions and comments on your posts the audience will not get satisfied. And the audience is smart enough to differentiate a genuine and inauthentic reach.
Disclaimer: We never encourage anyone to follow such practices and this is only for educational purposes.
Hope you liked the article do share with someone in need 🙂