YouTube as most of you know is a leading online video-sharing website.
With each passing day, thousands of new content creators get into the world of YouTube. More than 400 hours of video content is uploaded on YouTube each minute.
If you are too a content creator then you might have faced the struggle to make your video stand out. It takes much effort to get YouTube subscribers and Views at the starting phase.
In India, Internet prices very reduced to just 10% of the earlier cost. It made a huge difference in how people used these video sharing websites. More and more viewers and content creators emerged in just a matter of months.
This made it even harder for YouTube Channels to reach people out there. Most of the new channels couldn't survive this fight and leave the wish to be popular and get YouTube subscribers and views for their content.
Here in this post, we will be sharing proven tricks for getting Free YouTube Subscribers. They are not one-click hacks but strategies that will eventually help you in getting you much more out of your efforts.
Let us get started with the list:
Before Creating a Channel
1. Deciding a Niche
YouTube algorithm loves it when your channel is focused on the field of content. Your niche allows it to choose the audience to recommend your videos well. This eventually gets you more impressions as well as a new unique audience.
Even before starting a YouTube channel, Decide your niche for example you will be creating videos on Unboxing Gadgets. So your top-level field will be technology and your direct niche would be unboxing gadgets
Stick to your niche and create content focused solely on that one domain. You can try to do multiple things while staying connected with your domain. Like you can provide Technology tips, tricks, and solve technology-related problems.
But you should never be mixing your content which hurts your channel growth. Suppose if you are starting a Maths YouTube Channel then don't try to add music videos or any other kind of video content.
2. Keyword Research
Everything on the Internet is somehow flowing with the help of Keywords. By keywords here we mean the queries which user types in while searching videos on content.
Don't worry you will not have to find them manually one by one. there are multiple tools to perform keyword research for YouTube. One such tool which we often use is KeyWord.Io
It allows for searching keywords for YouTube content. Just enter any word related to your domain and you will get enough keyword ideas of what people are searching for. Suppose our keyword is Class 10 Maths then below are the keywords suggestions are provided.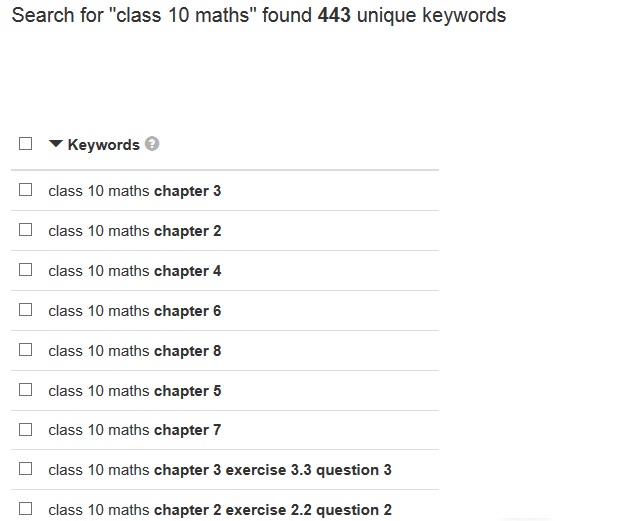 Keyword Research for YouTube
If you want to get additional information related to the keywords then you can switch to their pro version.
Have an Excel sheet and include all the major keywords which you will be working on. Your channel will be created around these keywords and all the promotions will be focused on the same.
3. Get Your Channel a Name
Name is one of the most important factors while creating a new YouTube Channel. Choose something unique which could be easily distinguished from other channels.
Never try to choose generic terms as your channel name for example "Tech News", "Comedy Videos". Because for these keywords there are many channels and videos ranking which would make it difficult to come in search results.
4. Be Prepared in Advance
Don't just create a video and start uploading it randomly. Create at least 5-10 videos with all your channel branding like Logo, YouTube thumbnail design, Channel Banner, etc.
Most of the people just leave their channel after 1 or 2 videos. Either they are not interested in it anymore or they are not able to create content further due to lack of ideas.
So be prepared with at least 5 to 10 videos in advance which also strengthens up your confidence.
After Creating the Channel
5. Editing the Profile
Fill up all the necessary details like Website, Social links, Business emails, etc. This will help both in the authority and leveling up your channel in YouTube algorithm processing.
Upload a unique and attractive profile picture, You can use tools like Canva to create amazing profile pictures. Also, use a call to action channel banner which shows every time a user lands on your Channel's homepage.
6. Updating the Channel Description
Channel Description is the ultimate place to reach out to the audience. Most of the people ignore this place and write just a one or two liner description.
But here is a catch, You can use your keywords in this area which will let your channel rank better in YouTube searches. Every time when someone writes in a query the algorithm finds the most relevant videos and channels to show.
If you will use the keywords effectively then there are chances that you might rank for them. You should be choosing low competitive keywords, Keyword tools could be used to find that.
Not only keywords but it is the perfect place to introduce yourself to the end audience. Once the users are satisfied with your description they might add themselves to your Subscribers list. So it will surely help you to get Free Youtube Subscribers and Views.
While Uploading the Video
7. Optimizing the Video Title
While surfing through different YouTube videos on your timeline, You might have seen videos with catchy headlines. Once which forces you to click and watch them even when you don't actually want in the first place.
This is human psychology to get forced with something curious. Pranksters often use the word "Gone Wrong" or "Got Kicked off" in their Video title which makes it appealing for the audience to watch it.
You can also find some catchy words for your niche by looking at your competitors. One important thing here is not to use Click-bait to get views as it will degrade your watch time and bounce rate.
8.  Optimizing Your Video Description
YouTube allows us to have a description of 5000 words for each video. You should describe the video content in brief and also link all your playlists, Social media profiles in the video description.
If you have used any copyrighted content then you can link back to the original resource as well. Moreover, this is the place to embed more of your video related keywords. But it should not look like a mess and the keyword density should be kept in mind.
SEO plays a great role in ranking your videos and Video description helps in optimizing the same.
9. Managing Tags
YouTube has multiple places for discovering new content. Instagram has its hashtags and explore page to let you discover pictures from all around the world.
Some of these places on YouTube are:
Your Homepage Timeline
YouTube Search
In-Stream Recommendations
Trending Tab
Weekly Suggestions
So there are multiple places where you can reach your audience and get free YouTube Subscribers and Views. Now You might be asking how you could reach there?
It is made easy with video tags which you can use while uploading the videos. Use your main keywords in the tags and also other small one word tags related to your videos.
Don't use so many tags which will hurt the video rank eventually. You can find tags used by other popular videos in your niche and use those tags which will make your videos show in recommendations below the same.
Use tools like VidIQ which is a Chrome extension and helps in finding the best keywords to be used in tags. It also has many other tools like live analytics that guide you while the video is being uploaded.
10. Thumbnail, An Attractive Thumbnail
Different niche has different visual demands for video thumbnails. Tech channels often use clickbait in their video thumbnails showing some other product in the thumbnail but have a different one in the actual video.
Although this is not suggested to you if you want to give it a try then you can do it. Always go with an attractive thumbnail which will make the viewers click it and watch your video.
Something which makes people curious about the video like some shocking or mysterious event happened in the video itself.
Platforms like Canva, Pixabay, Unsplash could be used to create amazing YouTube thumbnails.
11. Use of End Screens
Most of the new YouTubers ignore using this amazing feature known as End Screen. It allows the content creators to embed multiple things at the end of any uploaded video.
This way you can embed your playlists, recent videos, subscribe button at the end of any video. People usually go away from the channel after watching a video but it will allow you to create a user flow.
They will move from one video to another which also increases user engagement. As user engagement is one of the most important factors for deciding channel ranking in searches. Thus always create an end screen having related videos, playlists, outbound links, or a Subscribe button.
12. Using YouTube Cards
Cards are small notifications that appear while watching any videos. They can be used to notify viewers of something related to the video. Suppose you have explained a topic in your previous video and you want to give a reference to that point.
In this situation, Cards could be used to create a simple notification without any actual disturbance. This might help you in multiple situations and you can find out more details here YouTube Cards 
After Uploading the Videos
13. Social Sharing is Dope
YouTube ranks videos depending on hundreds of factors. Social signal is one of the signals which could help you rank top in YouTube Searches. Which will allow you to get Free YouTube Subscribers?
Create social profiles on all the major channels including Facebook, Instagram, and Twitter. Share your videos there and tag people so that they would engage with it. Facebook groups are very much helpful in sharing your channel,
Make sure you don't spam the platforms with your videos and links. This might get you banned and your channel to go into the blacklist.
14. Creating Playlists
A playlist is a group of related videos mostly arranged in a sequence. All the top YouTube Channels usually upload tutorials in a sequence which they group in a playlist.
Playlists have many benefits and some of them are mentioned below:
Every playlist has its own description where you can use your keywords. Explain the playlist well and embed related low competitive keywords.
Playlists also rank in YouTube searches which allows you to have an extra benefit.
Each playlist has its own name which provides you a way to embed keywords.
They help you in getting user engagement as they play in a sequence of your videos.
Having so many benefits makes them an obvious choice for most of the content creators. It is very easy to create Playlists and you can Google it down for a tutorial.
15. Analyzing the Results
For getting ahead from your competitors you always need to keep yourself updated. YouTube provides analytics to show you the reports for your channel.
Here you can check the following things:
Your current Subscribers and Views
Sources of Traffic
Search Terms for which Your Channel got impressions
Views for each individual videos
Most Popular content from your YouTube channel
Analytic reports will help you to work on things that need your attention. You will also be working more on things that are bringing you much traffic to your Channel.
These were some most useful tactics to get free YouTube Subscribers and Views in 2020. People may suggest you go for Subscribe-for-Subscribe techniques but they will hurt your channel quality.
You will never grow with bad tactics and tricks as YouTube's algorithm is becoming stronger with each new day.
Hope you liked the article, Do share it with your friends 🙂