Interviews are the main part of any hiring process. For getting the dream job anyone would have to clear multiple rounds of interviews and tests.
To prepare for interviews people usually search "What are the best interview preparation websites?"
All they get are different websites and they have to try them all to find the best one. In this post, we have sorted out a list of Top 10 Interview Preparation Websites.
Most of the websites that we mentioned are focused on Computer Science Job Interviews but others can be helpful for many other fields.
So shall we start with the list that can help you to crack your interviews and get hired?
Here is a list of some of the best Interview preparation websites:
This website comes with a complete package for anyone preparing for Job Interviews. You can have a glimpse of what the company is all about. There are reviews from its current and previous staff which you can read by signing up for an account.
There are interview preparation tips provided by employees that have previously cracked interviews for the specific company. All the steps that you will go through are mentioned even with the Interview questions that were asked of the people.
It is the website that every developer knows about as it provides answers to every development topic. It has got all the previous years' questions categorized in topics as well as companies for which they were asked.
Almost all tech companies hire on the basis of a coding round. The website has got multiple coding problems for practicing and that too starting from basics to advance level.
CareerCup is another great website to prepare for an Interview. It has got multiple resources to support a learner. You can have tips for improving your resume and building a strong and influential one.
On the main page of the website, you will be shown newly updated Interview Questions. You can answer the questions that you know and can also ask your questions.
There are options to know about new career fields and salaries associated with each. The website is mainly focused on providing resources for Software Engineering Interview Preparations.
There is a special subreddit on the website Reddit which provides a lot of information about Interviews. Anyone preparing for any kind of Interview can find a good chunk of knowledge and answers.
If you have recently faced any tech interview you can also submit the related knowledge. The answers are not focused on any general field but rather on the base topics from people all around the world. People usually discuss their queries and how they overcome the difficulties faced during the process of hiring.
You will surely learn a lot of things from people who have already experienced the fear and nervousness that you might feel.
Zety is an online resume builder website that helps you in building a perfect resume. The website also runs a Blog where you can get a lot of tips to prepare for an interview well.
The blog shares articles about Career Advice, Tips to find jobs, Tips on clearing interviews, Building a better resume and CV, and a lot more topics.
It also has articles about handling your work-life schedules and procedures. Read these articles to clear any kind of Interview.
This amazing website is very much popular among coders and developers. HackerRank organizes various coding contests and rewards the winners for their hard work. Students at HackerRank can practice their coding, Prepare for interviews and also join a contest.
There are companies that are hiring through HackerRank all over the world. So any student can code the programs and companies will select candidates for hiring according to their performance.
Even if you are preparing for some developer-level exams like Machine Learning or Python Developer you can test your skills on the platform with coding rounds.
Every company while hiring new candidates takes an aptitude test. There are questions related to simple mathematics including topics like Ratio, Number Series, Quadratic Equations, etc.
IndiaBix helps students in learning and practicing aptitude questions. The questions are formed according to the one that is asked in Interview aptitude tests. There are also tips, tricks, and resources for every round of interviews.
Quite similar to Glassdoor and provides both reviews for companies and tips for cracking their interviews. AmbitionBox also provides salaries related to various fields as disclosed by the employees.
These salaries are specific to companies and do not reflect accurate figures. Working on practice tests will help you understand how the interview tests are taken.
You can also learn about tactics and basic personality development tips to rock the interviews.
Quora is a question-answer website and is listed here for a valid reason. The community includes people from around the world working in a variety of fields, interests, and cultures.
Anyone using Quora can ask questions and get them answered by experts from around the world. There are already thousands of questions answered about interview preparation tips and resources. So you can check them too for your journey through the process of getting hired.
10. ChatGPT
If you are an active Internet user then you might have already heard about this amazing web application. ChatGPT is a large language model-based chatbot that allows users to have real-time conversations with an AI program.
You as a learner can use the application to get answers to all your questions within a few seconds. The process is very simple and you can have a conversation with ChatGPT acting as a mentor for you.
Below is an example of how to start your interview preparation with ChatGPT: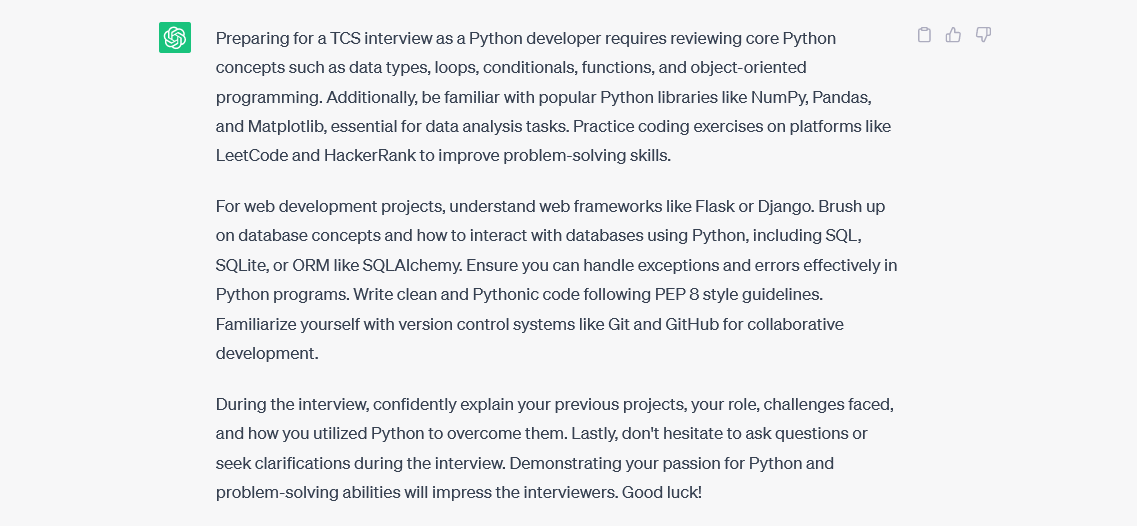 This is just the beginning of the conversation and you can ask as many questions as you want.
So, here comes an end to our list of websites that can help you get a job by preparing effectively for your interview.
We hope that you liked the list of the best interview preparation websites. We wish you good luck in your future. Do share the post with someone preparing for an Interview 🙂